I have been erratic updating this site – besides being so caught up with so many things on the domestic front, my motivation for cooking and baking suddenly left me – how did that happened ??? Could it be the kids school transition? I really don't know, lately I just don't feel motivated to cook or bake anything. Sad isn't it??? Anyways glad to be back in business.
So what is everyone doing today? Cooking up something special for your family?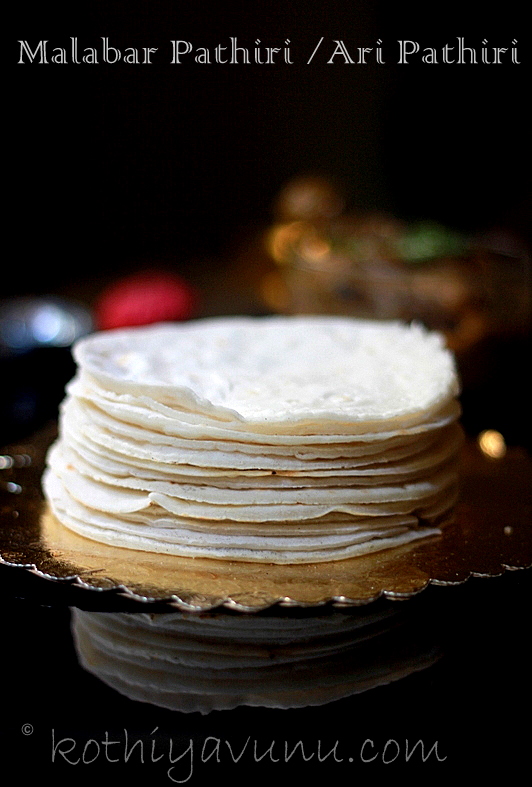 Today features Kerala Pathiri /Soft Rice flat bread from Kerala. Pathiri is much loved Kerala Muslim traditional specialty prepared and served on special occasions, including parties for newly married couples and during Iftar in the Muslim fasting month of Ramadan. Pathiri is also known as aripathir, ari pathil or pathil in some parts of the Malabar region. There are many types of Pathiris, like Erachi pathiri, Poricha pathiri, Neipathiri, Meen pathiri, etc. It is usually prepared for dinner and served with meat curry.
Well, honestly speaking when I made pathiri for the first time, the results were terrible. Yes you guessed it right…it's because of the consistency and kneading the dough. Finally I ended up in sticky and messy dough and was not able to roll…Poor me 🙁 Then, for a long time, I wouldn't dare myself to prepare this again, but I knew I had to perfect this recipe, because I had a recipe request laying in my inbox for quite sometimes and my kids love it.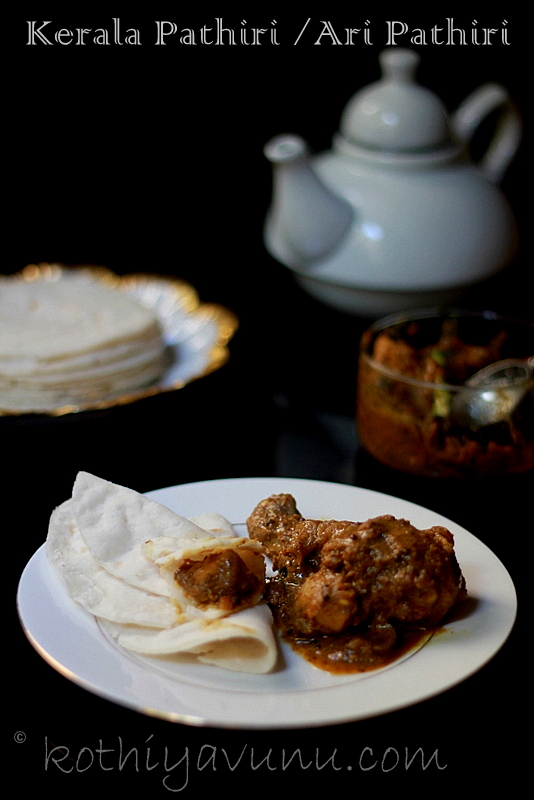 Then I decided to call my friend Raziya and got the perfect recipe, she clearly mentioned how the constistency of dough and kneading process should be, so I followed her instruction as such. Finally I made the best pathiri ever ! Thanks Raziya, for sharing a fool proof recipe !
So this post is for all those who have failed in their attempts to make Kerala Pathiri 🙂 Do try and let me know the outcome…Good Luck!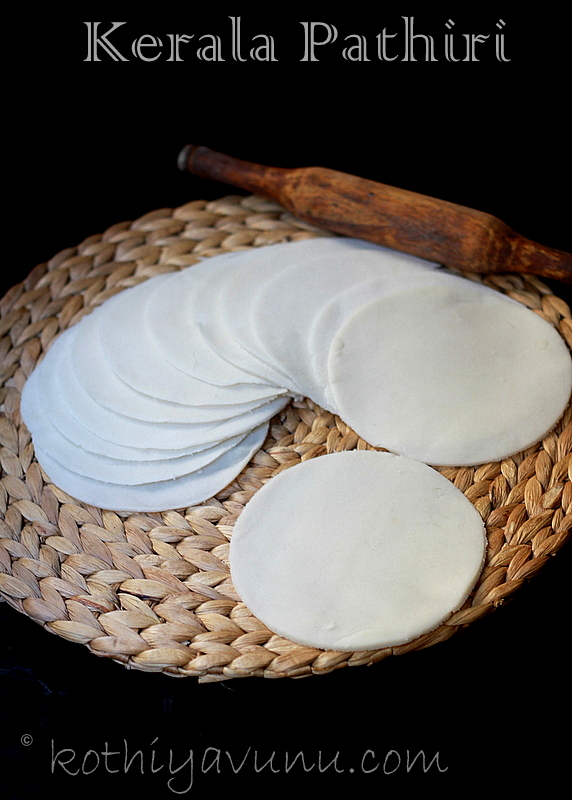 Kerala Pathiri Recipe | Ari Pathiri Recipe | Malabar Pathiri – Pathil Recipe
Preparation Time : 20 mins
Cooking time : 5 mins
Serves : 4-6
Ingredients :
Pathiri Podi /Roasted Rice flour : 2 cups (I normally use doublehorse or niraparra, if you can get pathiri podi/powder that will be the best or you can roasted rice flour)
Water : 2 cups
Salt to taste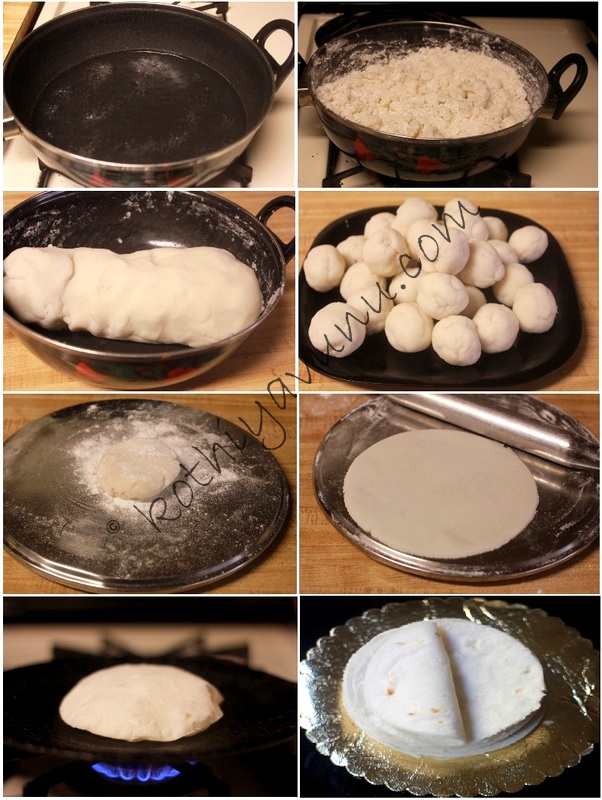 How to make Kerala Pathiri | Ari Pathiri :


1. Sieve the roasted rice powder/pathiri podi using a fine mesh.
2. Boil the water in a wok or heavy bottom pan. Add salt and simmer.
3. Add slowly the roasted rice powder /pathiri podi and stir continuously over low heat. (Note : Ensure that you have stirred the dough evenly when on flame and make sure it doesn't get burnt to the bottom of the pan.)
4. Cover this and keep on a slow fire for 10 seconds. Switch off the stove.
5. As the dough will be very hot at this point, knead the dough with metal spoon. Let it reach a warm condition.
6. You have to knead the dough when it is warm. Knead the dough thoroughly using both hands for about 5 minutes without adding any more water till the dough comes together with a uniform smooth surface and is no longer sticky.(Note : Kneading the dough has to be done thoroughly and at one single stretch. This is the most important part.The key to soft pathiri is to keep kneading until the dough is less sticky and could be divided into small balls, don't add water or rice powder again. If needed, wet hands or apply a little coconut oil on palms. Any water or any flour added at this point will change the texture of the pathiri.)
7. Roll into small lemon sized balls. Press it between palms.
8. Dust the rolling board and rolling pin using the same rice powder used for making pathiri dough.
9. Roll the flattened balls using the chapathi press or chapathi roller until you get thin round roti/pathiri.
10. Keep a tawa on medium flame and heat it. (
Note :
Low flame and extra high flame will not make pathiris good and will end up in crispy pathiris.)
11. Keep the pathiri on it, rotating in between, you can see the steam passes through it within few seconds and when the pathiri starts bubbling turn it upside down.
12. Slightly press it using the back side of a spoon, this will help it to rise up as one single bubble. This way the pathiri will be so soft, wait for another 30 seconds so that even this side is done well and remove from the tawa. (
Note :
The pathiri shouldn't be brown it should remain white. After one pathiri is done, and before putting the next pathiri, clean the brown powder on the thava with a dry cloth.)
13. Serve pathiri with
chicken curry
,
mutton curry
,
egg curry
or with any
curry
of your choice. Optionally these pathiri can be dunk into coconut milk for few minutes before serving and Enjoy!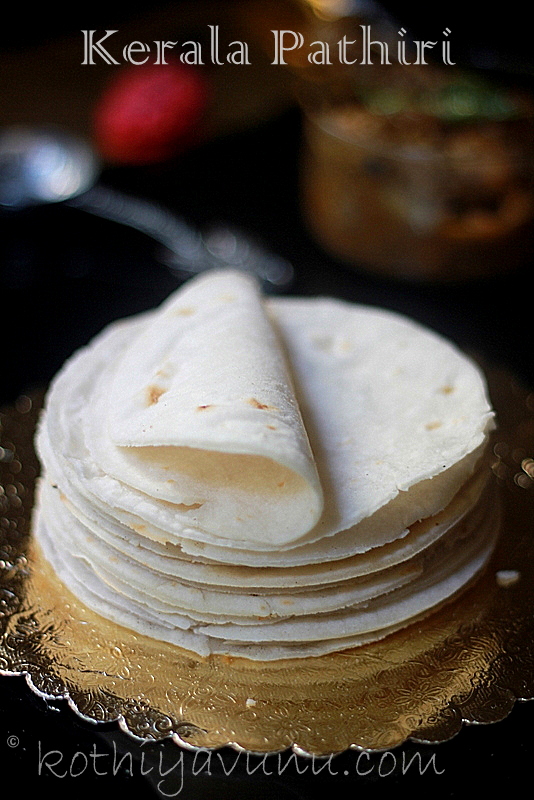 Related posts :
Until next time, Bon Appetit,
Sangeetha